Bag shoulder straps with stylish texture hardware, durable and difficult to damage.
The compact body can be put into everyday items such as mobile phones, lipsticks, and paper towels.
Symmetrical clamshell design with a generous front button straddling the center of the bag gives a simple and generous impression.
The length of the straps can be freely adjusted according to the height of the straps.
Detachable shoulder strap can change according to the occasion.
Steady handles add a stylish feel to the bag's shape, adding convenience for daily use
Both-sided open is unique and at the same time adds a separate storage space.
For example, headsets and chargers can do not worry that they are wrapped in a bag.
The closed method is more secure and ensures the safety of the products in the bag.
Size: length 24* width 14* height 22cm
Gender: Female
Style: handbag / messenger bag
Color: yellow or can be customized
Texture: leather
Hardness: soft
Decoration: square buckle
Shape: square
Sandwich: none
Apply to: all
Pattern decoration: none
Lining material: leather
Closure type: other
Popular elements: belt decoration
Internal structure: certificate bag / cell phone bag
Shoulder strap style: one
Backpack way: hand
Whether it is foldable: no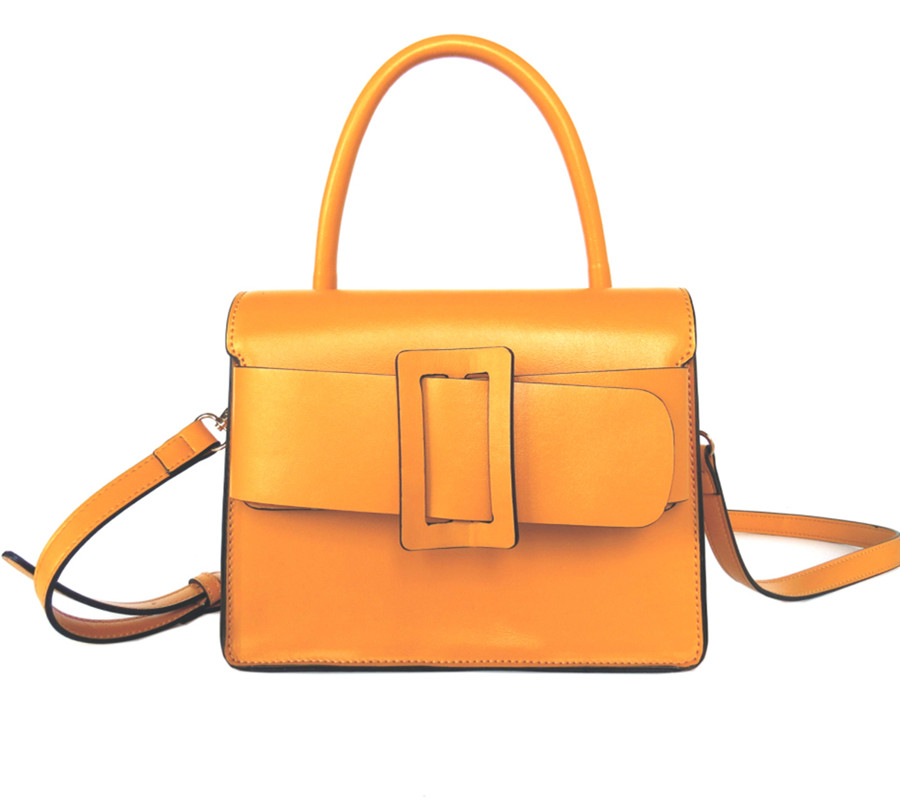 Company Information
Our company established in 2005, we produce a wide selection of bags, wallets and purses - both men's and women's.
We have our own sample room with 20 permanent staff, who can create up to 20 new designs a day.
The company also has a small design team, which is constantly developing new ideas, researching new materials and hardware.
Our new showroom is approximately 800 square meters.
New and existing customers are always welcome at our impressive new premises,
where we very much look forward to greeting you.